World Wide Wang 12/17
Appleseed in CG/anime blend like Wonderful Days. GO check out the trailer here
( via Porn King )

Screenhead finally discovered Levitated. A cool Flash gallery of what can happen when programming becomes art. This is always the type of art that I find most interesting. Created by randomness based on some sort of algorithm. Yet the art is the actually result of it, and the experience is different for everyone viewing it.
( via Screenhead )

Incase some of u haven't seen this yet, or haven't seen the part two, this is English Home, a Japanese language tutorial in Flash. Remember Harakiri! Hara-kiri!

Letters to Chrisopher Walkens
( via Screenhead )

In the tradition of Xmas, we present, "It's a Wonderful Life" in 30 sec., by Bunnies.
( via Xmas WebZen which I recommend SantaMosh, Xmas Weebl, Lickin-Bow, for kid bolwing )

A statistical breakdown of web browsers use to view BoingBoing.net shows that Firefox is gaining a commanding stat for web browser usage. The New browser based on the "gecko" engine, from Mozilla which also powers Netscape and Camino type browser, made a splashing debute last month. Even in Beta, its hype was well earned. Yesterday, Mozilla even did an NYT ad for FireFox, from the money collected by Speard FireFox. It is documented that FireFox has been downloaded over 11 million times. Maybe its time to move over IE.

Yes! Chow Yun Fat might be in the next two Pirates of the Carribean movie, playing a Chinese pirate! Can u say Arrrg! In Chinese!
( via BoingBoing )

Disney drapes homeless folks with advertisements for The Incerdibles. I'm not sure this is a good thing. It almost makes the The Incerdibles look bad.
( via Defamer )

An interesting article linked from Terra Nova, talking about, once again the Economy. This time the writer specifically addresses World of Warcraft. Again, it's another discussion of money resources vs. money sink. The writer being a Ex-day trader, shares his thoughts on the economy of WoW.
( via Terra Nova )

Full Auto Rubber band Gun.
( via Gizmodo )

New Liquid lenses will be use to give x3 zoom on camera phones.
( via Gizmodo )

Japanese companies are in the total war as each is perfecting it own Robot of doom. In answer to Honda's weapon of mass dancetruction, the recently upgraded ASIMO, Sony answer back with their own little bundle of death, the QRIO. Notice as this link shows the QRIO training for Social combat in golf and ballroom dancing. Let the world of the Robots Begin!
( via Engadget )

Nintendo fearing the PSP dominance over portable market, is releasing the new Multimedia add-on to Nintendo DS and GBA.
( Gamespot via Joystiq )

The Taipei 101 ( world's tallest habitable building ) Now has the Worlds Fastest Elevator. Going to speeds of 60.6 kph. It even has preassure adjusting systems so ur ears don't pop on the ride up/down. Now all we need is Keanu Reave, to star in Speed 3, Taipei 101.
( via Roland Piquepaille's Technology Trends )

Japanese Girls are Cute and make funny faces into cameras Speaking of which… what is this Polaroid Scene thing? I've seen many many party photos from this site? Is it some sort of Hipster Flickr?

Pickup the funny dialog Fugly added to this Harry Potter photo: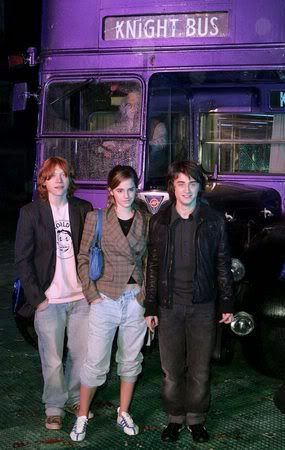 Emma Watson: Hasn't anyone noticed that I look like I am going to cry? Hasn't anyone noticed that I've been forced to wear my father's pants, turned into knickers? With trainers? Hello? Anyone? Won't anyone comfort me?
Daniel Radcliffe: I just realized that I am wearing an overly large polo shirt buttoned up to the neck. I feel very, very uncomfortable all of a sudden.
Rupert Grint: Also, Dan? You kind of need a hair cut.

And for those of u following Webcomics, here is the Best Webcomics of 2004. I'm not too sure about the source Webcomicsreview, but it is a nice place to sample some of the variety of comics out there. Speaking of which, here's a shameless plug to a friend's webcomic, Ouf of Game, which for unknown reasons has been down for awhile, but start from the beginning and re-enjoy the fun!

AllofMP3 doubles its rate to $0.02 a Mb! Still cheaper then the stores.

I want to launch a TV add to find a girlfriend before Xmas too!
( via Goldenfiddle )

This needs to end in a mud and kissing.
( via Goldenfiddle )

Didi u know, people use to stink?

IN honor of Metal Gear Solid 3, we give u, the Alligator girls:


(click for larger picture, via Geek on Stun )

Have a good weekend all, don't forget to take ur vitamins.